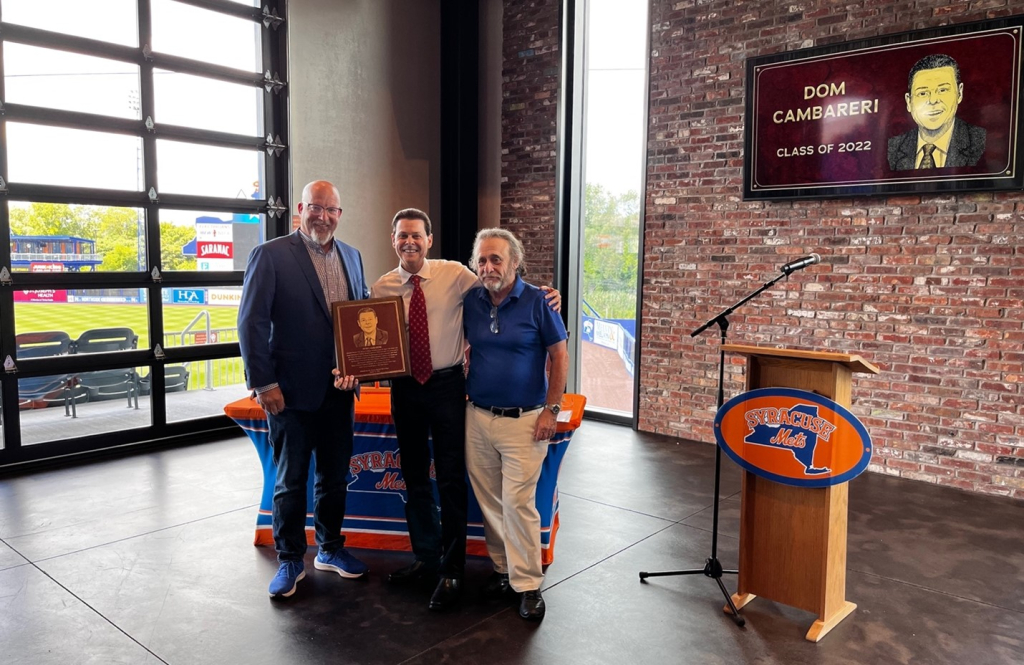 Dom Cambareri: The Angel that Baseball Sent to Syracuse
Michael Gross
On Saturday four Syracuse legends were inducted into the 2022 Syracuse Baseball Wall of Fame.
Mark Lukasiewicz played for Syracuse from 1997 to 2000 and in 2004. He came back the following year in 2005 to be a broadcaster.
Another notable name is Moses Fleetwood Walker who is known to be the first black man to play in the major leagues. He made his professional debut in 1884 in Toledo but played for Syracuse in 1888 and 1889, bringing with him a piece of history.
Also inducted on Saturday was Phil Regan who was a member of the 1965 Syracuse Chiefs. Regan played in the major leagues for four teams, most notably the Los Angeles Dodgers, where Hall of Famer Sandy Koufax, neatly gave him the nickname "The Vulture" after his knack for earning late game relief wins.
While these three have significant impacts on baseball, none may have a bigger impact on Syracuse Baseball than Dom Cambareri.
Born and raised in East Syracuse, Dom grew up as the second of five boys, each of which weas madly in love with the game of baseball. The Cambareri boys played hundreds of games of wiffle ball, hard ball and home run derby. You name it, they played it.
Much of the love came from going to the ballpark. Dom and his brothers would save up their hard-earned paper route money to buy a ticket for the amazing show that was the Syracuse Chiefs.
"For us it was like heaven," Cambareri said. "You were going to the big ballpark. You are watching the pros play. Once you enter the gates, it's like you enter a special universe where everyone there shares a commonality of loving what's about to transpire in front of them. The great game of baseball."
The sights and sounds of the ballpark resonate deep within Cambareri and his roots. The crack of an old Louisville Slugger connecting with the ball. The dirt and dust filling the air while players hustle around the bases. The loud pop of the glove behind the plate. The smells of fresh popcorn, hot dogs and pizza. The emphatic cheers of kids, mothers, fathers, grandparents, real baseball fans and everyone in between.
What Dom did not realize back then, but later figured out is that baseball is at the center of the American family experience.
"Baseball is about family. Baseball is about friends. Baseball is about faith. The three F's, all embodied by the great American pastime," Cambareri said.
These were the foundations for Cambareri to embrace a "special vocational calling" with Syracuse Challenger Baseball.
Challenger Baseball is an official division of Little League. Founded in 1989, the purpose of this division of baseball was to give children and adults with special needs the opportunity to play baseball in a relaxed and open environment. In this league, everybody hits, everybody runs, everybody scores, everybody throws and most importantly, there are no outs.
Cambareri's son, Domenico, has autism. Like his father, Domenico acquired a deep love for baseball at a very young age. At age six, Dom was told about Challenger Baseball which was a very small league at the time. The only problem that stood before them was the only way the league could get a new player was if an existing one decided to leave. This was their way of keeping the league manageable.
But this was family and Dom never lost faith.
In 2001, when Domenico was seven, the Cambareri's decided to try again. They convinced the volunteer director of the league to find a spot for their son and because of this, Domenico has played 21 joyful years of Challenger Baseball.
Two years later in 2003, Bob and Sandy Nelson, the two who ran the program, decided their son had outgrown Challenger Baseball and wanted to step away from it. The problem that arose was nobody offered to take the wheel and steer the ship. That was until Dom had a conversation with his wife shortly after.
"You know what's going to happen don't you," Valerie said. "You know what you've got to do."
With the support of his wife, Dom offered to take over the league and become the Executive Director. A year later, he gathered all the coaches as a makeshift executive committee and said that his first order of business would be to open the league up to any family with a child or young adult with disabilities.
There would no longer be the problem that Domenico ran into at age six of not enough roster spots. The limit was lifted. Coaches were eager to recruit as many players as they could find to expand the league.
They reached out to friends, families and schools to introduce their league to individuals with special needs. Then suddenly, Dom's good faith paid off and the league exploded. By 2006, the league grew from 60 athletes to over 120 athletes in just three years under Dom's leadership.
Cambareri wants the best for people of all abilities. That is why he took over and made the league his own. But there was a time when Challenger Baseball was looked at as lesser than those who had no physical restraints.
The fields they played on were little league fields. When there was no game or event that little league had organized, Challenger Baseball was able to use the field. They also had to battle the weather because it was hard for many of the players to ambulate around the bases when it was wet. But those windows of field time grew smaller which prompted Dom to conceive a new idea.
Cambareri began thinking about a place to call Challenger Baseball their own. A field complex that would be different. Designed to be accessible for players of all accessibilities. It would be big enough to accommodate the growth of the league. It was outside the box.
"I remember thinking 'how am I going to do this,'" Cambareri said. "I can't build a field or a complex. I have a job and a firm I have to run. I have two kids that are growing up, both who have special needs. We have our time and effort put into that. I am volunteering to run Challenger Baseball during the summer, and I don't know anybody who's got money or land like that."
His doubts were very apparent. Dom figured he could wait until his son plays his time out, turns 21 and then move on. But through faith that an answer would appear, Cambareri had a change of heart.
He heard a voice that told him to "shut up." Charming, right? The voice said Dom must "utilize the talents I have given you and I will take care of the rest." He then spent the next three years trying to figure out how to make a field expansion pipedream a reality for Challenger Baseball.
One of the biggest factors in creating this complex was finding land and partners to work with. In 2009, pieces began to fall into the right place when Cambareri's friend and DeWitt town supervisor, Ed Michaelenko, came into the picture with great news. Carrier Corporation was going to donate 26 acres of land, previously used as a recreational park, to the town of DeWitt.
Ironically—or not so ironically if you believe in higher powers and the American family experience—this donation happened within a year of Cambareri and Michaelenko discussing a new home for Challenger Baseball. Crazy how the world works.
A committee was formed, and designs were made until they finally came up with a plan for a state-of-the-art complex that would not only house Challenger Baseball, but many other athletic sports and activities as well.
The $7 million Carrier Park Field of Dreams complex that Challenger Baseball calls home would not be possible without the help of Dom Cambareri, his family, friends and faith.
"Every other little league player in America has got a diamond to go play on," Cambareri said. "But what about the kids and the young adults with special needs? For me, it's about knowing that this community, and its children, and its grandchildren, and its great grandchildren, will have a program at a park to play at for years and generations to come. That was the goal."
When Cambareri was notified by Syracuse Mets owner, Jason Smorol, that he was being inducted this year, he said it would come with one stipulation. Dom would only accept the award if he could focus the receipt of the award on Syracuse Challenger Baseball, the kids, the families, the players and Carrier Park. Then he would be willing to accept.
Dom has focused every drop of his time and effort on Challenger Baseball in Syracuse. He has helped make it the best possible environment for individuals with special needs to partake in America's greatest pastime. But the main reason he was chosen to the 2022 class of Syracuse Baseball Wall of Famers relates back to his childhood and the 'three F's.'
Baseball is about family. Baseball is about friends. Baseball is about faith.